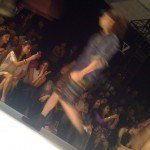 Tanisha Mohan, a permanent feature at fashion weeks was seen clicking pictures of  designer's collection from her 'must-have' by hook or by crook front row seat. Yeah, at Men's Week too, she sat on Vineet Jain, the MD of Times of India's seat.
Wonder why she was capturing the images from the ramp? Would you know why? Here's a picture, which I am fictionalising and captioning: "Amol Vadehra seems to be asking Tanisha Mohan why she's been taking pictures at the shows." Now I want you guys to suggest me some witty answers to the question in the caption. Would you suggest some?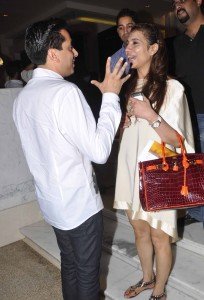 My answers are:
Tanisha: Amol you know I have few unfortunate fraands who haven't seen shows and they keep begging, 'Tashu tu toh every show mein Front Row mein sit karti hai. Kyon nahi U take some photos for us please". I pity them and do it for them yaar.
OR
Tanisha: Amol you know nah how dumb these reporters are? After every show they run after me to find out my opinion on the show. My opinion is soooo important to them so I help these poor guys and after seeing shows after shows, I lose track and then these pictures come handy.
By the way, if you didn't know this…Tanisha once tried to become the Guest Contributor for 'Hello' magazine and her argument was that she knows Delhi's biggest hot-shots and can definitely do much better than the existing Guest Contributor of Hello. The Guest Contributor referred to is a respected columnist cum TV Anchor and hails from one of the most respected and sophisticated families of Delhi