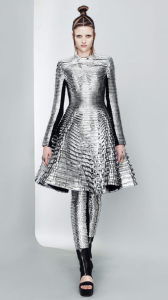 Gareth Pugh, a brilliant designer showcased his Spring|Summer 2011 collection in Paris through a short digital presentation. Fashion critics termed Pugh's show as, "kaleidoscopic vision with a futuristic fetish slant".  Vogue summarized Pugh's collection as replete of, "designer's razor-sharp tailoring with articulated armour-like tops, chiffon capes in chequerboard prints and Samurai-style looks."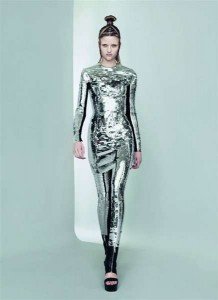 But I found some of the silhouettes bearing an uncanny resemblance to our Churidaar-kurtas. A molten silver ensemble definitely looks like a silver churidaar-kurta. Even Asha Parekh style short hip-hugging kurti paired with a churidaar was seen on Gareth's Techno collection.  A-Line chiffon tops with rubberized neoprene leggings again bore resemblance to our ubiquitous churidaar-kurta.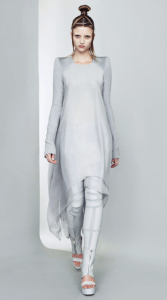 I am so looking forward to see some rich fashionista pick up that molten silver churidaar-kurta and sizzle in a Delhi soiree! Anjali Chawla, Tanisha Mohan, Ammu Saidi kindly oblige!