It seems the Desi Richies are going through a phase of outdoing each other in building expensive mansions. After Mukesh Ambani's mind-boggling Antilla, Anil Ambani took off to building one for self and now Indian steel magnate Lakshmi Mittal is building the most expensive mansion ever erected in Scotland, next to the famed Gleneagles golf resort in Auchterarder, Perthshire.
The London-based tycoon, Europe's richest man and the fifth richest man in the world with a fortune of $28.7 billion, is spending a record $23 million on the posh estate, including the $6 million mansion he tore down to make way for his new luxury fortress. His lavish private palace in London is reckoned to be the city's most expensive as well. Costs on the Perthshire project soared after Mittal decided some of the finished weren't up to standard.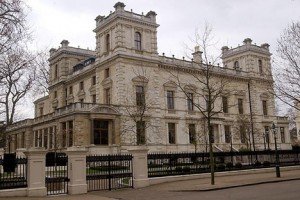 At one point he demanded a $125,000 bathroom be torn out and done over. It seems Mrs. Mittal is going to use the posh mansion more than her husband. The six-bedroom main residence will have furnishings by Ralph Lauren, a state-of-the-art entertainment system, two kitchens and staff quarters among other amenities.