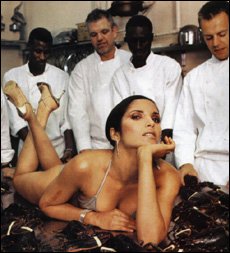 Padma Lakshmi was recently in Mumbai to attend the India Today Conclave for Women Achievers. Well, I don't doubt her qualification as an achiever. Her career on the TV is rocking and her affairs make headline news. I don't know how great is her career as a jewellery designer doing though.
She is a wealthy woman. Her marriage to Rushdie and subsequent divorce and her bearing a child with the Dell heir has made her fortunes soar.
In Mumbai, the hosts for the conclave first hosted Padma Lakshmi at The President Hotel. This didn't quiet appease Ms. Lakshmi and the lady was rather upset and threw tantrums.
President Hotel is a very basic 5 Star Hotel and Padma Lakshmi, a global celebrity deserves better. Anyway, tired of her constant cribbing, the hosts finally moved Padma to the The Taj Mahal Palace Hotel and got her the Presidential Suite – the Tata Suite that costs approximately Rs. 2.5 Lakhs a night.
The tantrum queen was happy though the luxury of the Presidential Suite was only for a day, the last day of her Mumbai trip. All's well that ends well!