The New Board of Fashion Design Council of India (FDCI) has been constituted. 108.168.206.104/~fashions/ as always brings you the news first. The Election Results of the New Board was declared at 8:00 pm tonight (28th February, 2011) and here you have the names of the New Board of FDCI that will run office for the coming three years.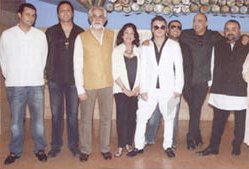 The Co-opted Members – Sunil Sethi, President FDCI and TJ, Singh, Advisor, stay in the same capacity in FDCI for another period of two years.
The new members as predicted by fashionscandal has many big-daddies of fashion. Here are the names of 16 Member Board in NO Particular Order:
1. David Abraham
2. Tarun Tahiliani
3. J J Valaya
4. Rohit Bal
5. Suneet Varma
6. Rohit Gandhi
7. Wendell Rodricks
8. Anju Modi
9. Rajesh Pratap Singh
10. Namrata Joshipura
11. Varun Bahl
12. Abhishek Gupta
13. Poonam Bhagat
14. Gautam Rakha
15. Niki Mahajan
16. Paras Baroliya
Congratulations to all the new members.
However every election has losers. Unfortunately following designers failed to get elect:
1. Ranna Gill
2. Manoviraj Khosla
3. Manav Gangwani
4. Jattinn Kochchar
5. Nikhil Mehra
6. Raghavendra Rathore
7. Sanchita Azzampur