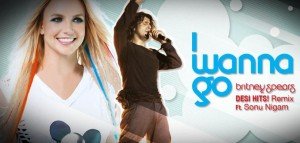 Britney Spears and Sonu Nigam in conjunction with Desi Hits created a catchy  Desi remix to her track, " I Wanna Go." DJ Lloyd who most recently worked with ex Pussycat Doll Nicole Scherzinger produced the track.
Britney has a massive fan base in India, and the songstress has shown love to Desi peeps in the past by teaming up with Brit-Asian producer Rishi Rich to remix her track, "Me Against the Music" and also donning a pretty pink and blue lengha while she performed to the remix on her Circus tour in 2008. Now Britney is ready to really make waves in South Asia by teaming up with the most famous Indian singer of this generation, Sonu Nigam.
Britney stated, "So excited about having Sonu on "I Wanna Go". His vocals add such a different feel which i love! Watchout Bollywood, it's Britney and Sonu! :)" . Sonu had this to say about the collaboration, "Awesome to have collaborated with the beautiful and talented Britney on 'I Wanna Go'. This is her first big step into Bollywood. Looking forward to many more. As for me, from Lata Mangeshkar to Britney! I love you world… :)" .
Maybe Sonu will bring Britney along on his next tour or vice versa?! Whatever the case may be this remix is a hot collaboration bringing together two of the top artists from different parts of the world! 
Here you can have a look and hear the Britney-Sonu Remix version of "I Wanna Go":
http://www.desihits.com/news/view/britney-spears-says-i-wanna-go-with-sonu-niigaam-20110713#ooid=oybzluMjpc_lH2QJhp4UJzscgGwO5Z9E