The re-emergence of Simi Garewal on the Idiot Box as the Hostess of a stupid show – India's Most Desirable has brought the whole plastic surgery gossip in the forefront. I loved a guy who tweeted – RT @uncannybal: Botox prices shot up all over the world when the manufacturers heard Simi Garewal was going to do another TV show.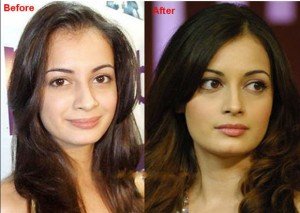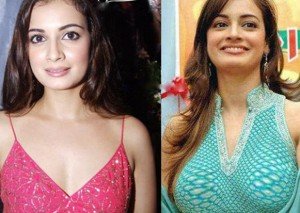 But why single out Simi Garewal? She isn't the only Plastic Doll floating around. We have the well-known Plastic Babes like Queenie Singh, Ramona Narang, Shilpa Shetty and Sobha De who are the unofficial Ambassadoresses of Plastic Surgery. 
I would like to talk about lesser know babes who have gone under the knife. Gauri Khan takes the Cake. The pictures tell it all! Diya Mirza got her broad nose fixed and also got a boob-job done. Rhinoplasty (Nose Job) is rather popular with Bollywood stars and socialites. There is Priya Sachdev Chatwal who got a not-so-great nose job done and if you thought Sonakshi Sinha just shed those extra kilos for Dabangg, you are wrong. She trimmed her big and round nose. Oh even Akshay Kumar got his crooked nose fixed.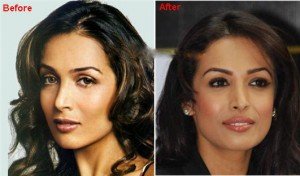 Then we have 'bee-stung' cases. Don't you see Katrina Kaif' has acquired a trout-pout? Yes that's all collagen there. Mallaika Arora Khan also got got Collagen injected into her lips. Plus her usual Butt-Job.
So folks if you have any more revelations to make, please I would love to put it up here.