When one's husband is the Chairman of the Body organising a Fashion Week, the wife can be assured of a a Prime Slot amongst big-ticket designers even if her credibility as a designer is yet to be tested. Vijay Singh, the Chairman of FDPC (I thought this body was defunct but Singh still uses it.) that organises the annual Aamby Valley Indian Bridal Week has managed to bring in his wife, Jyotsna Tiwari as a designers amongst some big-ticket names from the fashion industry in the very second year since Bridal Week made its debut.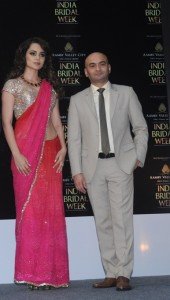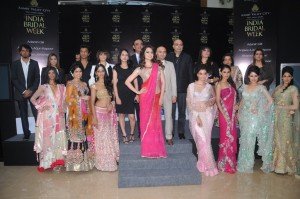 Jyotsna Tiwari had a multifaceted career before she turned designer. A graduate from the Pusa Institute of Hotel Management, Jyotsna took to catering business when she was in Kolkata. After this she started a Spa venture, which suddenly shut-down and Jyotsna moved to Delhi with her hubby, Vijay Singh and started TNG Spa here, which too is shut down now. Eventually Jyotsna Tiwari took to designing and when Vijay Singh was riding high on FDPC Agenda (thanks to his close proximity to the then Minister of Textile, Shankarsinh Vaghela) she managed a slot in Wills Lifestyle India Fashion Week (WIFW) in March 2009 in the category of 'Debutant Designers'. The point to be noted here is that earlier Jyotsna Tiwari's applications to FDCI for participation in WIFW were denied couple of times.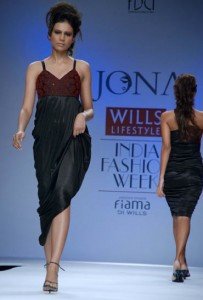 So when I saw Jyotsna Tiwari's name next to the likes of Tarun Tahiliani, Pallavi and Bhairavi Jaikishan, Falguni & Shane Peacock, Rocky S, Neeta Lulla and Vikram Phadnis, I was rather amazed. Not only that, Vijay Singh ensured that Kangana Ranaut, the Brand Ambassador of Aamby Valley Indian Bridal Week 2011 wore none other than Jyotsna Tiwari's design.
Don't be surprised if you see the organisers putting their weight behind this caterer turned beautician turned designer – Jyotsna Tiwari at the forthcoming Bridal Week.