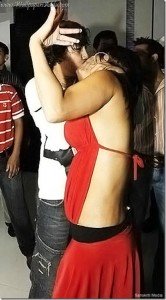 I thought 'Item' Rakhi Sawant and singer Mika were no longer in cordial terms with each other post that infamous 'Kiss-Gate' that erupted in 2006. Eeks! Yuck's the word as singer Mika grabbed 'Item Girl' Rakhi Sawant in full public view in Rakhi's birthday bash in a discotheque in Mumbai and planted a long kiss. There was a 'Media-Ruchus' on this and Rakhi Sawant did go to the National Commission of Woman for justice. I don't know what happened thereafter.
But I was rather surprised to see Rakhi Sawant and Mika sitting next to each other at the forthcoming C-Grade Flick's – 'LOOT' – promotion. They looked rather at ease with each other. Now I do believe what world said then that the whole 'kissgate' melodrama was staged by Mika and Rakhi to grab media attention. And our Bollywood Crazy media would lap up anything coming from B-Town. Oh and don't miss the panty-flash by Rakhi Sawant. A word of caution though – You might throw-up at the sight!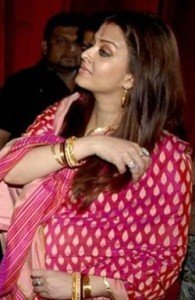 Coming back to our 'Bollywood Obsessed' Media, just see the frenzy over Aishwarya-Abhishek Bachchan's child-birth on National Television. Few like Abu Jani and Sandeep Khosla, the designers close to the Bachchans are encashing on this frenzy and having their 15-minutes of fame!