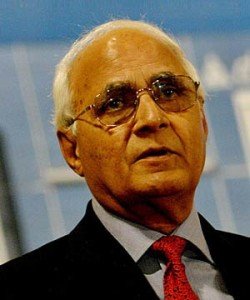 Kushal Pal Singh of DLF turned 80 on August 15, 2011 and is still celebrating his birthday, which will conclude with the Mega Bash on the 15th of November at Udaipur. And I though the country's biggest Real Estate Group is facing cash-crunch and owes a lot of money to the banks.
Anyways the grand finale of the three-month long birthday bash of KP Singh is at Udaipur on Tuesday (15th November), which as most of you know will have Shakira performing with Shahid Kapoor to an eclectic crowd consisting of B-Town Celebs, Business Tycoons and Political Big-Wigs. 
Now I got to know from a highly reliable source that the iconic Irish Rock Band – U2's front-man Bono is attending KP Singh's bash. No Bono wouldn't be performing. He is coming in as a guest of KP with his wife, Ali Hewson who is known for her Organic Fashion Label – EDUN. This sure's gonna be a Baap of All Bash. Well the grand old man – KP Singh deserves it all!