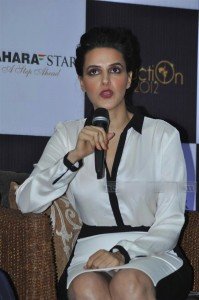 On November 13 Fashionscandal posted about actor Neha Dhupia entering the lucrative Lingerie business. The post also mentioned that Neha Dhupia intends to model for her brand of lingerie. You can read the earlier post – 'Neha Ki Chaddi' here: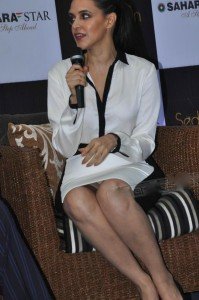 Recently I saw some photographs of Neha Dhupia at a Press Conference at the Sahara Star Hotel in Mumbai and in those photographs Neha Dhupia is flashing her knickers. Knicker Flashing has become very common in Bollywood these days but Neha Dhupia doing Knicker Flash is something extraordinary. Why? Well if you remember, Neha is a former Miss India and the preparation that goes into the Miss India Contest is rigorous enough to teach the girls all things 'propah'. Yes the contestants are taught how to sit 'ladylike' in short dresses. Since Neha Dhupia was Miss India and that qualified her to go for Miss Universe, her training definitely was more rigorous.
So that makes me think if that Knicker Flash at the Press Conference was kinda 'Teaser Ad' for the lingerie label Neha Dhupia is soon launching!