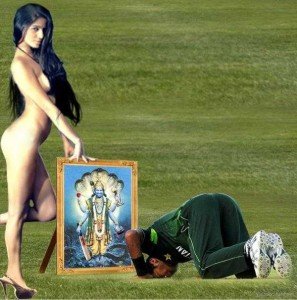 On Tuesday night, the slut-and-a-half called Poonam Pandey caused furore in Kolkata. Reasons – a Kolkata daily published a picture of Poonam Pandey in the nude posing with the picture frame of Sachin Tendulkar depicted as Lord Vishnu and a Pakistani cricketer bowing down before her. This picture was enough to outrage the Muslim population of Kolkata who took to the streets and caused a six-hour long traffic jam on the already busy streets of Kolkata.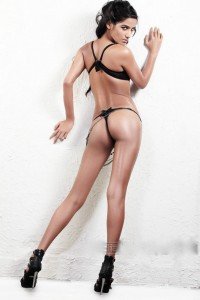 It is blasphemous for the followers of Islam to bow their head in front of any deity and that too in front of a Hindu deity held by a totally naked woman. By the way the photograph is a morphed one of Poonam Pandey but the whole tamasha that she created by announcing to strip if the Indian Cricket Team won the World Cup doesn't seem to leave her . Every time a cricket tournament is on Poonam Pandey jokes and slugfest takes off.
Pandey should have thought about the repercussions of announcing such idiotic ideas and then not keeping her promise. No point getting annoyed at the publication that printed the morphed image. The slut open the can of worms and now cannot control it. But the bitches like Poonam Pandey can go to any extent for some cheap publicity.