This weekend Thom Browne presented his new Spring/Summer 2013 Collection in London. Of course the American designer made it a special happening and an unique presentation. A Harrod's bus happened to be the location for the collection presentation, with all models wearing seersucker suits, a band playing on the roof of the bus and the models then walking out of the bus and lining up in front of it.
Decked out in blue and white striped seersucker suits, and black leather Derby shoes, the model passengers on board looked identical as if school boys in school uniform are on their weekly outing. The look was signature Thom Browne – the fit of the suits were his usual a size too small with ankle baring trousers. Slicked-back hair, pressed pocket squares and silver tie clips compounded this aesthetic, while the cropped trousers kept it distinctively modern and distinctively Browne.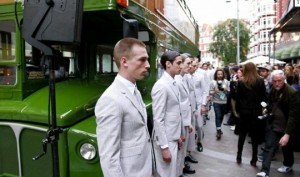 Was it a boyish public school affair, or a statement on the institutionalizing effect of uniform that Thom Browne wanted to express through his collection???