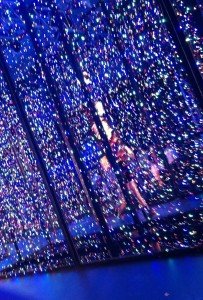 It was a satisfying day – the Day 3 at PCJ Delhi Couture Week 2012. Anju Modi's Indian Couture and Manish Arora's Global Couture were exhilarating. Thanks to Manish, we got a much-needed break from saree, shararas and lehengas.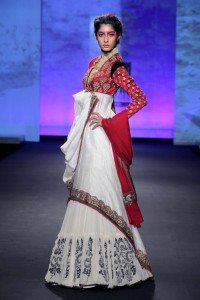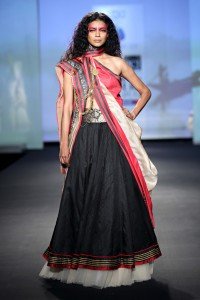 I strongly suggest my colleagues and peers to discard 'press release' so that one has an open mind to absorb a designer's creation and the story behind it. The opening visual of Anju Modi's show of boats on Hoogly river gave a hint of things to come. Then walked in Nayonika Chatterjee with open hair streaked with vermilon in a red-bordered white ensemble that was undeniably Bengal. Anju's take on the traditional Bengali Laal – Paad (Red Bordered) saree was an intelligent adaptation of a traditional element in her creations. Loved the serene appeal of white and the freshness of the textile that Anju Modi used. Tangail, Jaamdani and Dhakai sarees – a must in every Bengali lady's closet was deftly used as fabric to create those beautiful flowy lehengas. Sorry Anju the remix number of Tagore's epic song – 'Ekla Chalo Re' was jarring to the ears.
Manish Arora showed in India after a really long time. As expected the set was elaborate and quirky with multi-hued fluorescent dots swarming the arena. It was great to see his avant-garde creations live as I didn't have the privilege to be at Paris during his shows at Paris Fashion Weeks. Arora showed a retrospective collection consisting of pieces from his collections over the past few years. Faux-fur pieces, skirts in Mongolian wool, moulded dresses with 3-D embroidery, sequined body-suits, kitschy pop-art and graffiti splashed dresses were a treat to watch. And yes, can't ignore the fab Nicholas Kirkwood footwear that were custom-made for Manish Arora.