CARMA and Indian Fashion has a karmic connection. A centuries old royal stable opposite the Qutub Minar was converted by Lekha Poddar as India's first fashion boutique – CARMA. Lekha's daughter-in-law Malvika Modi Poddar better known as Dimple Poddar was the proud owner of India's first high-fashion boutique and running the operations was Gurleen Kaur, a name that virtually became synonymous to Carma.

It was a sort of Mecca for Indian designers. If you were selling from CARMA, you simply had arrived. Carma like all things saw lot of evolution. Once a domain of big-daddies of Indian fashion, Carma started taking in bright young talent. Since the boutique enjoyed a premium position Carma has innumerous tales of inter-designer politics, bitchy dramas and loads of conspiracy theories. Evolution continued and couple of years back CARMA did a tie-up with Sabyasachi Mukherjee and from a multi-designer boutique it became Sabya's flagship store. The other CARMA at Malcha Marg (though nowhere close to the 'elite' factor the Qutub Carma enjoyed) stocked multi-designers.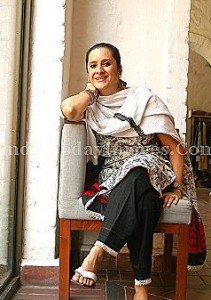 Past few months things were not smooth between Sabyasachi Mukherjee and Gurleen and Dimple Poddar. As per sources the bone of contention was the commission paid to Gurleen by Sabyasachi. Since Gurleen was more involved in running the Malcha Marg Carma, the percentage commission payable to Gurleen on Sabysachi's sales were reduced.
Now Gurleen has officially put in her papers and insiders say that it came as a shock to Dimple. The spicy bit is Gurleen in collaboration with Manish Malhotra is opening his first flagship store just a couple of yards away from Sabysachi at Carma on the One Style Mile across the Qutub Minar. The coming days will witness some tug-of-war for Carma loyal clientele. We will wait and watch how things unfurl!