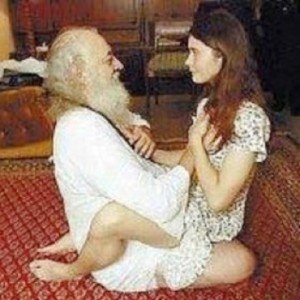 Self-proclaimed Godman – Aasaram Bapu has been accused of rape by a minor (15-year-old) girl. The victim reported that she was being raped by Aasaram Bapu while her parents were sitting in the other room. Disgusting!
Aasaram Bapu, the self-styled Godman sermonised the nation on how the gangrape victim – Nirbhaya would had avoided it all if she would had taken diksha, recited mantras and begged in front of those six beasts who were raping. Aasaram's sermons made our blood boil in disgust.
But now after seeing this photograph of Aasaram Bapu imparting 'Diksha' to a disciple in his unique style, I understand where he is coming from and what kind of sermons he is capable of uttering.