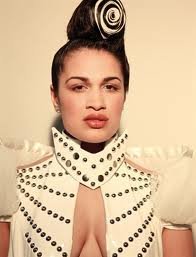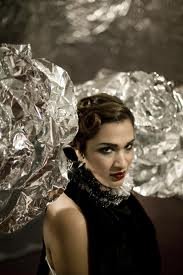 BISHI– a songstress, a performer and a fashionista is taking London by the storm. "The New British Diva" The New York Times stated! She is a friend of mine who I met some years back when she periodically visited India to learn Sitar from the maestro – Ravi Shankar. Bishi aka Bishnupriya Bhattacharya is a fashionista too and have been extensively shot by lensman Nick Knight and last year Vogue -Italia released her album.
Here is the video of a Bishi's rendition of one of Rabindranath Tagore's song with her mother – Susmita Bhattacharya.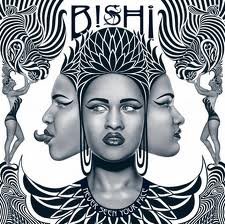 Bishi adds this note for 108.168.206.104/~fashions/ readers about this song:
Hi there,
Blessings for the road ahead from my mother and I!
I'd like to wish you a wonderful new year with this beautiful song and visual treat from my mum, my team and myself 🙂
Gram Chara is a reworking of a well known poem by Bengali poet and novelist Rabindranath Tagore, set for our voices and strings by Neil Kaczor & produced by Matthew Hardern (who also directed and produced the video). The main strings are played by The Ligetti Quartet whilst the solo viola da gamba is played by Liam Byrne.
I grew up hearing my mum (Susmita Bhattacharya) sing this as a lullaby and in performance during her career as a classical singer.
She has studied the Tagore tradition throughout her life and 2013 is an important celebration for the man regarded by many as the greatest writer in modern Indian literature. 100 years ago Rabindranath Tagore became the first non-European to win the Nobel Prize in Literature.
He was an accomplished artist, environmentalist, rural reconstructionist, political thinker and philosopher; as an educationist he founded the International University, Visva-Bharati. His compositions were chosen by two nations as national anthems; the Republic of India's Jana Gana Mana and Bangladesh's Amar Shonar Bangla; he even established a new dance form called Rabindra Nritya.
Tagore had strong links with Scotland after establishing a close friendship with pioneering Scottish town planner Patrick Geddes and his grandfather Dwarkanath Tagore was honoured with the Freedom of the City of Edinburgh in 1845.
The string arrangement echoes with Scottish themes that pay respect to this historic International communion of art, literature and humanity.
English Translation……
Beguiles my mind the earthly road
Beyond the village it does spread
I know not for whom my mind thrusts
With arms languishing in those dusts
Pulling at my feet the road drags me out
To an obscure end I know nothing about
In which turning in the road
Will I find the mother lode?
Where some new person I will befriend
I can't fathom where it will end
Lots of love
Bishi x