Did you know Louis Vuitton made wheelchairs? Well I didn't.
I was rather shocked to see the images of pop-star Lady Gaga on a LV wheelchair in Chicago the past week. Gaga has been confined to a wheelchair since February this year, when she suffered a labral tear in her hip that caused her to abandon the remaining U.S. dates of her Born This Way Ball tour.
By the way Lady Gaga earlier spun around in a custom 24-carat-gold Mordekai wheelchair designed by Ken Borochov.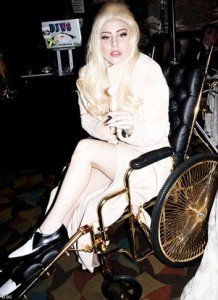 Woh…I am amazed by things celebrities do to stand-out and how the luxury brands are there to cater to all their needs. I am sure next time a Bollywood star breaks a leg or a hip, he/she will not be caught dead in a regular wheelchair or crutches!