Did you know that the movie industry down-south – the Telegu films, Tamil fimls and Malyalam films are overcrowded by leading-ladies who are not from the south. In fact Hansika Motwani is one of Tollywood's biggest star.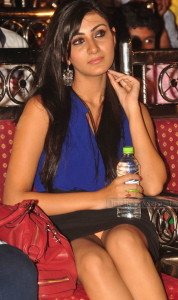 Anyway this post is not about non South-Indian girls dominating the South-Indian movie industry. It is about sleaze and knicker flash. Here are two heroines who are doing well in Hyderabad and Chennai but have horrific style sense. Pragya Jaiswal is flashing her pink panty while Neelam Upadhyay is giving a peek of her Spanx. Will somebody please teach the actresses, both from Bollywood and Tollywood on how to sit when donning a short-dresses???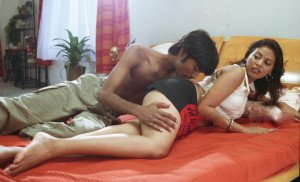 And I found this picture of Tollywood superstar – Dhanush. It's so sleazy! In the picture Dhanush is nothing more than a bag of bones and he is lusting over a Southern belle – Tejashree with thunderous thighs. What a sleazy image!