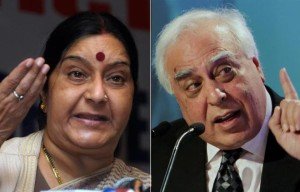 There is no need for politicians to politicise Tarun Tejpal's attempt to rape his former woman employee. If Sushma Swaraj made noise in her Tweet about a Cabinet Minister's involvement with Tehelka, it's but obvious that she was mentioning about Kapil Sibal. But then Sushma Swaraj conveniently ignores the fact that a former BJP Member who too was a minister in the NDA government has a higher shareholding in Tehelka.
Here is the list of shareholders of Tehelka as on September 2011. See serial number 12 and 13. If Kapil Sibal held 0.08% Stake in Tehelka, Ram Jethmalani held 0.17% stake. So let us not politicise the issue and eventually dilute the real issue and let the alleged rapist – Tarun Tejpal have the last laugh.
Next came another BJP loud-mouth – Subramaniam Swami. He flaunted his resources about digging out a letter that Prime Minister Manmohan Singh wrote to Sonia Gandhi in 2004. Here is that letter. Read it and draw your conclusion.