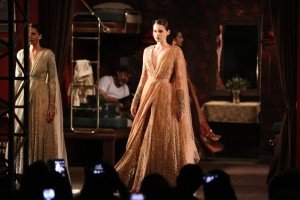 Yes I know the 'title' of this post is cryptic. I am talking about the India Couture Week 2014 that opened with Sabyasachi's collection. No ghostly spirit made him sick but it is the spirit that is in paints that made Sabyasachi sick. He recently opened a huge flagship store in Colaba, Mumbai and all that interior work took its toll. I appreciate the fact that he lived up to his commitment and did the show and also appeared on the ramp when he couldn't walk.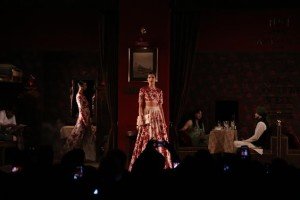 Well about Sabyasachi's 2014 Couture collection, it had all the quintessential elements of his signature look. But I liked the extra soft khadi he used. A course fabric like Khadi must have taken loads of treatment and processing to get a super fine 400 count. The ramp was a set up of train compartment of 'Ferozabad Express'. Ferozabad is famous for blown glass work and glass bangles in vibrant colors. I liked a white ensemble with shiny red semi-precious stone embellishment, which looked like Ferozabad's red 'kaanch ki churi' pieces sewn on.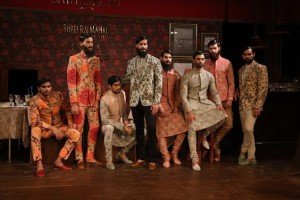 Mumbai based daily – DNA created major brouhaha about one exclusive photograph themed as 'Sabya's Boys' that got leaked and appeared online before they could publish. It happens guys….