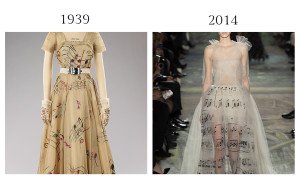 Plagiarism may be the oldest form of flattery but it's definitely not a pleasant one. High-Street labels copying styles and designs from the top-end designer labels has become virtually acceptable but what do you say to Valentino copying from Elsa Schiaparelli? Designers Maria Grazia Chiuri and Pierpaolo Piccioli of Valentino transformed textile to music sheet for the brand's Spring 2014 Couture show. Schiaparelli's Fall 1939 music-themed collection celebrated music, quite literally, with drum-shaped button closures, embroidered musical notes and music boxes designed into belts and hats. This particular dress, owned by heiress Millicent Rogers and housed at the Costume Institute at the Met, features musical notes and symbols embroidered in metallic thread on organza, paired with a belt designed with a working music box as the buckle.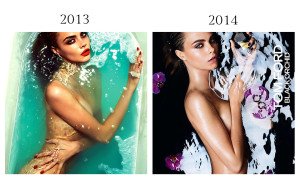 Plagiarism is there in advertisement too. The advertisement for Tom Ford's Black Orchid fragrance campaign featuring Cara Delevingne is a ditto copy of photographer duo – Mert & Marcus' editorial for Love Magazine's spring/summer 2013 issue that co-incidentally featured Cara Delevingle.
This expose' has been made by Partnouveau, a website that digs out blatant plagiarism acts in the world of fashion. The site is very strong in research and regularly exposes the ugly side of the glossy fashion world.