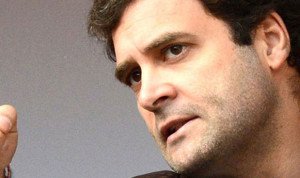 Our Prime Minister – Narendra Modi's love for Japan and all things Japanese is now out in the open. But did you know that the Congress Vice President, Rahul Gandhi too is fond of some Japanese things? Well RaGa for one is very fond of Yamazaki Single Malt Whisky.
The superior quality of Yamazaki single malt whisky is highly acclaimed the world over as evidenced by a growing list of awards from prestigious international spirits competitions. Ever since Yamazaki 12-year-old whisky was highly praised for its "noble" aroma at the International Spirits Challenge (ISC) in 2003, Yamazaki whisky has been gaining a well deserved place in the hearts and glasses of whisky connoisseurs around the globe. For nearly a century the Yamazaki distillery has been dedicated to the pursuit of crafting a world-class whisky that is uniquely Japanese.
The distillery's location is on the outskirts of Japan's ancient capital of Kyoto offered access to a good water supply, diversity of climate and high humidity—a desirable environment for the maturation of whisky. But mind you, bottle of Yamazaki Single Malt Whisky doesn't come easy as only limited numbers are produced and they are pretty expensive. Yamazaki's incredibly rare 25 year old presented in a beautiful leather case and wooden box, designed by London-based leather designer Bill Amberg, a man who also happens to be passionate about Japanese culture and whisky costs Pounds 1400!
NaMo could have got a few bottles of Yamazaki for RaGa. Anyways, the Japanese Premier, Shinzo Abe would be happy to know that Yamazaki is popular with India's one of the most powerful men, RaGa. Presently RaGa's good friend, a son of a prominent Congressman who is amongst the 44 MPs who won this Lok Sabha Elections organizes a couple of bottles of Yamazaki for RaGa.