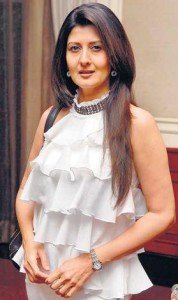 Sangeeta Bijlani has got a new man in her life and this one is one helluva rich guy and a tycoon who is at the helm of affairs as the Group Chief Executive of a business conglomerate that has interests in Energy, Steel, Shipping, IT and Telecom.
Bijlani after separating from Mohammad Azharuddin shifted out of Hyderabad and moved back to Mumbai. In Mumbai, her former boyfriend, Salman Khan and his family was her anchor. In fact there was a very strong buzz that Sangeeta Bijlani will be part of the ongoing season of Bigg Boss 8.
But destiny had bigger things in store for this tall beauty. Sangeeta Bijlani was introduced to this Marwari industrialist by the now infamous meat exporter allegedly accused for hawala racket, Moin Qureshi. It's definitely not going to be a smooth-sailing for Bijlani and her lover as he is very much married with two children. Bijlani's rich beau is the CEO of this multi-billion dollar business empire setup by his father and uncle. He is also embroiled in the 2G Telecom scam.