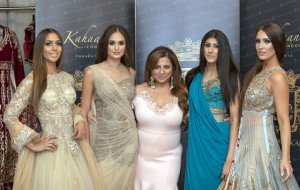 The designer duo of Anjalee and Arjun Kapoor recently opened a store in East London. Everything about the store – it's location, the merchandise and ambiance was hideous and bore their signature tacky look. But hey, there are buyers for those hideous ensembles and I am sure they will find many in East London who want bling that's blinding and looks that are so tacky and  loud that it demolishes yours and mine aesthetic sensibilities.
Anjalee Kapoor's present best friends skipped the store launch though they were very much in London. Roop Madan had to rush to the hospital at the same time because of hernia pain. Just an excuse it was!
Adding salt to the injury, Anjalee embarrassed herself as she got into a cat fight at St. Christopher's Place  The fight was loud and in full public view. Only Desis can indulge in such act causing embarrassment to other Desis in a foreign land.