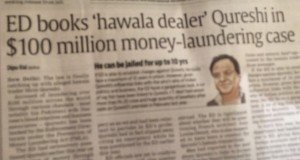 'Like father, like daughter' suits best to define the self-proclaimed fashionista, Pernia Qureshi. Her father, Moin Qureshi has been booked by the Enforcement Directorate under the Prevention of Money Laundering Act (PMLA), yet the daughter hasn't learnt that flouting rules or breaking laws doesn't pay. Here is the story about Moin Qureshi's Hawala racket:
Pernia flouted all rules and basic ethics on the final day of the Amazon India Fashion Week (AIFW), Spring-Summer 2016. Foremost she is not a member of Fashion Design Council of India, nor is she an accredited buyer. The lady had the audacity to host a private cocktail for the media at the fashion week venue to pimp her online retail business – Pernia's Pop-Up Shop. Worst, she timed it at the same time when the title sponsor of the fashion week – Amazon, India was hosting the pre-finale party at their lounge.
Even a dumb ass knows that when one brand is the title sponsor of an event, another brand from the similar industry is barred from hosting any marketing activity at the venue. Pernia Qureshi was indulging in what is termed as 'Ambush Marketing' at the fashion week by pimping Pernia's Pop-Up Shop in Amazon India's event. It is like Rampur ka Cola hosting a press-meet at an event sponsored by Pepsi Cola. It's so damn unethical but for Pernia ethics never mattered even when she was nabbed by the Delhi custom for smuggling in luxury handbags from Bangkok.
Besides ambushing Amazon's event, Pernia Qureshi broke another law. She planned to serve liqour at the party venue without procuring a temporary liqour license. Thankfully Pernia's plan caught the attention of FDCI officials and she was virtually thrown out. Madam it's is not cool to break laws and flout rules however big-shot you think you may be.!