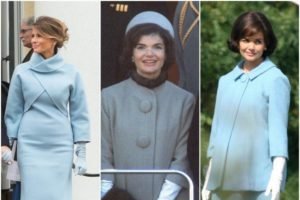 In a rush to draw a link between Melania Trump's pale blue Ralph Lauren ensemble and the coat Jackie Kennedy wore during her own husband's inauguration in 1961, netizens got it horribly wrong. They uploaded a photo of Melania Trump next to a photo of Katie Holmes in costume for her role in the 2011 Reelz miniseries The Kennedys.
To be fair, this particular photo of Katie Holmes is as close as any actress has come to looking like Jackie Kennedy, which is a difficult thing to do. Nine actresses have portrayed the role of Jackie O on the celluloid till date and Katie came closest in 'looks' as the iconic former First Lady. Natalie Portman was probably the worst choice ever made to portray Mrs. Kennedy.
The new First Lady of the USA, Melania Trump was vocal about Jackie O being her role-model and she decided to follow her from the word go – opting for a pale blue dress for the inauguration ceremony of Donald Trump as the 45th President of USA just like Jackie did when  John Kennedy was elected president in 1961. Jackie Kennedy wore a classic Chanel coat and Melania wore Ralph Lauren.