The legging trend has been back with a vengeance for a couple of years now. We've grown accustomed to seeing celebrities and socialites out and about wearing them instead of pants. Save for a few bold exceptions, for the most part, legging-loving fashionistas pull-off the legging style fine. It all depends on what you wear them with.
Given their form-fitting silhouette, it is safe to say leggings come with a set of rules.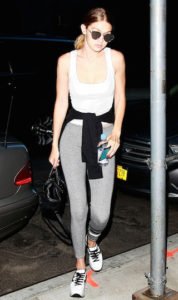 Due to VPL (Visible Panty Line) , bodysuits and leggings aren't a good combo. Instead, we love a short tank or tee paired with a jacket or sweater tied around the waist for a little extra coverage.
Leggings can be dressed up or down. They are essentially an athleisure piece, so avoid using them as a fancy going-out number. Pair leggings with an interesting outerwear piece, like a duster jacket, denim jacket, bomber jacket, or leather jacket.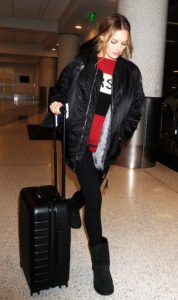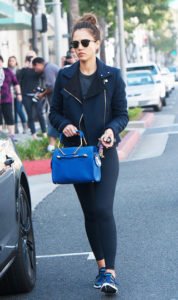 To avoid embarrassing VPL or camel toe a long, oversize sweater or sweatshirt is a much more forward look that is safe and chic.
This one may sound a bit odd, but carrying a handbag is perhaps the easiest way to elevate leggings and making them 'streetwear-appropriate'.
Plenty of celebrities pair their leggings with crop tops and even sports bras. But on most occasions, they throw a longer jacket over the crop top, adding a little modesty to the look.