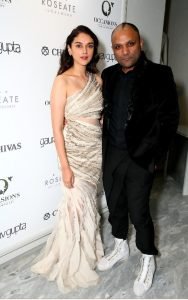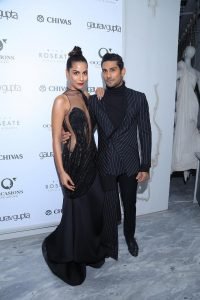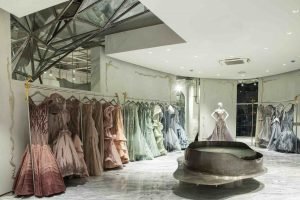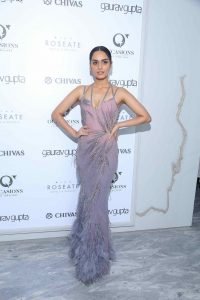 A fashion designer dreams for a flagship store and today most of India's A-List designers have their flagship stores in Delhi and Mumbai. Flagship stores are extension of the fashion designer's core fashion philosophy. Gaurav Gupta launched his third flagship store dedicated primarily to his couture collection at the most fashionable fashion address of the country – Mehrauli. I have seen fashionable flagship stores but one thing that struck me about GG's latest store is that it is a seamless extension of his design philosophy. The huge store is a curvaceous maze that we often see embodying Gaurav Gupta's dramatic ensembles. The launch had Bollywood glamour and Delhi's fashionistas soaking the fashionable night-out.
I recall Gaurav Gupta's foray in to the Indian fashion industry. As an alma mater of the prestigious Central Saint Martins, Gaurav came in with a fashion narrative that was international and very avant-garde. His collections were dipped in modernist elements of deconstruction, dash of Punk and S&M and complex pattern-work through which he created sculpted look. Over the years he adapted those very avant-garde elements in mainstream Indian fashion. Then I would had never envisaged that a Gaurav Gupta ensemble would become an inevitable part of the trousseau of a rich Desi bride. 
The ready-to-wear zipped-up saris with flamboyant sculpted pallu was a game changer for, both Gaurav Gupta and the concept of 'cocktail saris'. Undoubtedly these novel saris were infamously aped by many. Today Gaurav Gupta is a sought-after designer for red-carpet gowns and extravagant couture wear. I love the fact that he has kept his avant-garde touch intact. I love how Gaurav Gupta interplays frayed edges with string of Swarovski crystals to beautify a garment and all the esoteric elements like funnel-necks, dramatic Cobra hoods, sculpted shoulders and sleeves, complex patterns, interplay of different fabrics and hint of Punk and S&M that his collections bear.